Why choose
Carpenters on the Level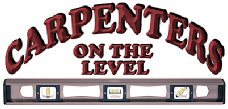 MA Lic# 049281
H.I.R. # 104038
Fully Insured
Testimonials – What are customers have graciously written about us
Peter…
Andover, Ma
Here's our final payment. We are still painting and getting our new space organized. We love our new bathroom. Thanks for all your hard work. We appreciate it"
George…
Methuen, Ma
Enclosed is the final payment for the balance due on the work you did. I will send off pictures as soon I get them developed. Thanks for putting up with me and for the excellent work you did. I don't have a single complaint —-now that's unusual. You have a rare quality as a contractor. You get work done, you do it right and you have a good attitude. Please don't change. If I talk with anybody who wants work done, you will be highly recommended."
Bob & Cheryl…
Tyngsboro, Ma
We just wanted to take a few minutes and tell you guys how happy we are with the work you did. Our basement came out great and we are very pleased, we show it off whenever we can. What was once a dark dusty cellar is now part of out living space.
There were no surprises, your quote was professional, accurate and fair. It's refreshing to do business with people you can trust and craftsmen who care and pay attention to the details. It was clear that we the customer, were considered important.
You get our highest recommendation.
Denise…
Andover, Ma
We just wanted to let you know how pleased we are with all the work you have done at our house during the past two years. We sincerely feel we always get top quality workmanship from you along with professional and timely service. We have had numerous compliments from friends and relatives about how nice your finish work is and we'll always be happy to give your name to anyone looking for carpentry work. You're also fun to have around.
I'm sure we will find more work for you in the future. Thanks again.
Bill& Lisa…
Andover, Ma
We want to thank you for the excellent workmanship. Our home improvement project more than met our expectations. Quality of work was excellent, communications about planning and decision making before & during construction was great, and the project was completed within the timeframe discussed. It was a pleasure to have you around our home, and if you need any references contact us anytime.
Bob & Linda…
Litchfield, NH
Carpenters on the Level is owned and operated by Mike Murphy who is by far one of the best general contractors that we've hired to work on many projects in our home(s). We've known and used Carpenters on the Level for many projects over the past 20+ years and have had an outstanding experience every time. Mike has built a garage, screen room, 3-season room, remodeled our kitchen in 2 homes, installed hardwood floors, installed replacement windows and built a huge deck on our home. He is very trustworthy, reliable and dedicated to his work -- we've always been very satisfied with his work and have recommended him to everyone and anyone looking for a general contractor.
Our last project was to renovate our new home's kitchen, baths, install hardwood flooring. Mike sub-contracted electricians, plumbers, etc to work with him during the project to get the job done on time for moving day. Everything was done to our satisfaction. I wouldn't hesitate to hire Mike again for any home project -- he's the first one we call for any project that we want done right!